Interview RUSTY BURNS (Point Blank) September 2014
By Philippe Archambeau & Yves Philippot-Degand
(Photos By Nicolas Gaire: nicolas@nicolasgaire.com mon site web :www.nicolasgaire.com )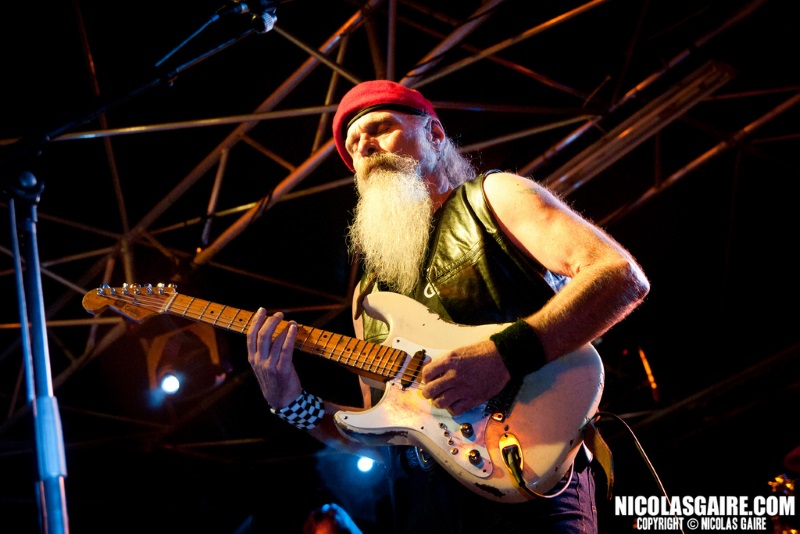 Hello Rusty, it's me Philippe, and Yves, coming to ask you some questions after the release of Volume 9, the new Point Blank album. Normally in Road to Jacksonville, John used to interview you. He really adored Point Blank and he had an huge admiration for the musicians of the band. Thank you so much for having dedicated this album to John.
Hello Philippe and Yves...I truly wish I were able to include John Molet in my greeting. I know that we all miss him dearly. We felt that we should show our respect to ''Southern John'' and included him in our dedication.
We didn't have so much record news from Point Blank since the release of Fight On in 2009, but allow me to come back a little. What a career for Point Blank since 2007 ! At the end of 2006, I have contacted at the time Phil Petty by mail to know if at the moment you had recorded the concert of a reunion in September 2005, and here a surprise for me, he told me that you were searching for a label to release a record. I immediately put him in contact with Dixiefrog that accepted to release the live album. Would you have thought, ten years ago that Point Blank would come and play 7 times in Europe and would become again one of greats of Southern Rock ?
Up until the point when you and Phillip spoke about the reunion show we played and recorded in 2005, we had no idea that we actually had fans in Europe and Scandinavia. This was a very happy revelation for all of us as we had just looked at Point Blank as being something from our past, yet it appeared that there was a possible future for us. This has allowed us to undertake and complete what we had always considered as ''unfinished business''. We had laid Point Blank to rest for over 2 decades. but always had the dream and desire to complete what we started in 1974. We are very thankful to you for your support in causing, allowing, and perpetuating this dream to continue in our quest to create music for our fans. We were never in the music business for any other reasons, than the Music and our Fans. You were absolutely instrumental in our decision to get back together.┬ Your role was the catalyst that brought about the rebirth of Point Blank... and for that we are eternally grateful to each of you.
First can you tell me what happened between Fight On and this new album ?
This period between the two records was full of emotional mountains and valleys. The band spent a lot of time writing and searching for songs that we felt were a good representation of the band and where we were musically during that time. Many songs were written and many submitted but we felt that we were going to do it right and not rush the flow of our musical energy. We were quite discriminating in the selection of the songs. There was also many issues to deal with with the passing of 3 former and current members within an eleven month time period. This was an extremely hard time for us and the Point Blank family so we had to get past the grief and mourning as best as we could. Point Blank has always been a family... the brotherhood... we would die for one another and have come close to it several times, so we had to release a lot of brothers in a very short amount of time. John and I knew that each member would have insisted that we keep Point Blank alive, even with Phillip adamantly voicing that desire to us. We decided to do what they would have wanted.
There were also extensive auditions resulting in Kirk Powers on bass and Greg Hokanson on drums, becoming members. This, of course, led to a barrage of extensive rehearsals. One third of the band were brand new so we spent a lot of time bonding tightly together musically to bring Point Blank back to touring status.
Can you tell us more about ┬ź Blast ┬╗, the instrumental that opens this album ? It sounds like some old Point Blank, quite aggressive, like a gunshot.
''Blast'' was actually a portion of another song that we felt was a 'song within itself', so we separated it from the other songs, focusing on making it into a short, yet powerful, instrumental to start the album. I believe the title speaks clearly about what the song is.
This instrumental is the only tune of the record that you sign. We know that the last two years weren't so easy for you from a family point of view, and that the band had to get more involved in song writing than usually, because this time you couldn't give as much to it. Doesn't this situation frustrate you too much ? Do you think that you'll be more involved in a next CD ?
All of the guys in the band are very good experienced songwriters and talented at their craft, so it was quite natural for them as they stepped up in a huge way to compensate for my being sidelined due to family medical problems. Yes, these last few years have been very frustrating due to the inability to immerse myself as I always have throughout the career of Point Blank, but undoubtedly what is hardest and most frustrating of all is watching my dear mother's experiences with dementia. As for future writing and involvement, I am back at 100%. I know that most writers write songs of their revelations and their personal experiences in life, so faced with that knowledge I am optimistic that there are probably some good songs that will be born from this emotional valley. That's another beautiful thing regarding music... negatives become positives when melody is applied.
Can you tell us more about ┬ź Howling Wolf ┬╗ and its bluesy part of dobro before a rising of the pressure of which Point Blank has the secret ?
The Dobro was played by Mouse who also was one of the writers of the song, along with Mike Gage and Guthrie Kennard. Mouse brought to life the eerie nature and mystique of the delta blues. For me, mixing the songs, it felt as if the swamp was all around me with the smells, the humidity, the view... it was awesome. I put the backward guitar track there to add tension and chaos as to be the pathway leading to the 'swamp'. We both played some banjo on the track, as well. Mouse added an incredible flavour to this song with his mandolin parts. I think this song has a moody and colourful air about it from it's story line to it's mysterious vibe, via the music and instrumentation. We had a lot of fun with it.
We continue with the Texan boogie ┬ź Automobile ┬╗, a cover of Bobby Boyd your compatriot from Austin, Texas, a master of the honky-tonk country rock. This tune that was already on Legacy, the solo album of John OÔǙDaniel, takes a more expanded shape with your guitar that wasn't on Legacy. What was your contribution and why did you cover this tune ?
When John was recording ''Legacy'' with Larry Telford (who also played on it as well as producing it), John contacted me to play on this song on his first solo record, but I was touring all over the country at the time, so the scheduling didn't work out for me to be available. I loved the record and was particularly impressed with ''Automobile'', written by the awesome songwriter Bobby Boyd. When John and I formed our former band, Bigfoot Johnson┬ (circa 1998-2002, Ed), we worked it up and it quickly became one of our most popular songs in that band. While putting songs together for the Fight On CD, we recorded it and ended up with a very good recording. The problem we ran into was that we also had recorded the song ''Hit the Bottom'' and the two songs are somewhat similar, in the fact that both are powerful shuffles. Both are in A chord and both have the same kind of musical spirit. We decided to use ''Hit the Bottom'' for the ''Fight On'' CD, but knew we would release ''Automobile'' when the time was right.
Judy Cole's ┬ź Start The Car ┬╗ enables us to find again a Point Blank in great shape, can you tell us more about the choice of this tune and its musical treatment ? How did you share the guitar work with Mouse ?
This tune was very catchy and felt good musically, so we decided to record it and see if it was a good song for us.┬ We put our touch on the song and piled up a wall of guitars on the intro. Instead of a horn section on the choruses, Mouse and I played harmony guitar lines, thus the Point Blank brand appeared. The lyrics were also very much in line with our sentiments of having to start the car and get out of town. I'm sure I had heard the song when Jude released it, but didn't actually remember it, so there were no preconceptions of what the song should musically reflect. We simply took the form and 'Point Blanked' it.
┬ź To Be a Man ┬╗ that closes the record is pure Blank, can you tell us a bit more about this tune ?
''To Be a Man'' was written by Mouse Mayes, Mike Gage, and Guthrie Kennard. When Mouse submitted this song, there was an automatic agreement that it should appear on Volume 9. Mouse's guitar work on this song was superb and extremely large in it's presence. His tone, as well as his performance, is monumental in my opinion. This is one of my favourite songs from the CD on many levels. We are working it into the show now... it's a great song.
The song ┬ź Heart of Fool ┬╗ is signed Allman, is it really ┬ź the ┬╗ Gregg Allman ? Can you tell us more about it ?
Gregg had come to Dallas to record some music as well as produce some cuts for The Stratoblasters at Studio Southwest. John has been singing with the Stratoblasters for many years. Gregg and John ended up writing some really good tunes together, along with Jack Williams. ''Heart of a Fool'' was one of the songs written during these sessions. It's a very cool ''Old School'' type of blues/soul song. We thought it added an element to the record that we haven't showcased since we released ''Wrong to Cry'' (the first song John and I wrote together) on The Hard Way album in 1980. This is the type of music that John and I grew up learning from and emulating. This style of song was very popular in our younger days, as we were developing and growing up in our musical craft, so it just carried on to the record as somewhat of a tribute to what this style and influence meant to us.
How and where was recorded this album ?
Volume 9 was recorded in several different studios. The majority of the basic rhythm tracks were recorded at Palmyra Studio, while a few were recorded at Mike Gage's studio, and some of the vocals were recorded at Larry Telford's studio. Guitar's were recorded at my studio, The Control Room, as well as some of the lead vocals and all harmony vocals.
For this album, the band changed his drummer once again, can you introduce Mike Gage to us and talk a little about him ? He seemed to be very involved in the recording of Volume 9, was he ?
Mike Gage is a very long time friend of ours and has stepped in numerous times to aid Point Blank over the years while we were experiencing drummer difficulties. I've played in a number of bands with Mike, as has John. Mike is an incredible drummer, producer, songwriter, engineer as well as a studio owner. He has many projects working through his studio and he is in very high demand as a producer and a drummer. He has been to Europe with us many times and is one of the best and most conscientious drummers in the music industry. He has helped us extensively since our re-grouping in 2005 and we are very grateful for the time he has spent with us playing and bringing his expertise to our stage and records.
Recently, you confirmed us that Greg Hokanson was back in the band, is it so difficult to be Point Blank's drummer ?
Yes, Greg has returned to Point Blank and we are very happy to have him. He is a great drummer and a wonderful friend. He, like many of us in the band, is also a business owner which requires a lot of time in order to keep his business stable and prosperous, so he had to leave the band for a little over a year to propel his business upward and once he did that, he decided it was time to ROCK again! Greg was recommended to us by Billy Gibbons several years back and it was a great recommendation. Being the drummer for Point Blank requires a special type of player and he fits in perfectly. We are very pleased he is back with us! I am coming to realize that it is very hard to be Point Blank's drummer.
Kirk ┬ź Powers ┬╗ Burkhardt is now for many years the bassist of the band further to the passing of the founding member Phillip Petty, and he seems to be well-integrated in the Point Blank family as he also plays with your other band Big Wampum. How did he build his relations with Mike Gage and Greg Hokanson ? Was it easy for him ? What do you think about the current rhythm section of the band ? Do you notice a great difference with those with Buzzy ?
Kirk is an awesome bassists and undoubtedly one of the best we have been blessed to work with. He and Greg came in to the band at the same time, shortly after Phillip's passing. He is extremely musical and a master of his instrument, so I know Phillip would be as pleased as we are that he is a member of Point Blank. The building of the musical relationships between Kirk, Mike, and Greg seemed to be an automatic fit. Whenever you put high calibre accomplished musicians together the music becomes the glue that bonds them together and Kirk's ability to interpret and express the feel of the music has made every transition very natural and easy.
Let's talk about gear, can you tell us on what gear you play ?
On live performances, I play through a couple of different rigs depending on the venue. I have always been a 'Marshall guy', but as most guitarists go I am constantly looking for a better tone. I am now playing in stereo through a Hughes & Kettner TubeMeister 38 Combo and a Line 6 Flextone II. Sometimes I use a Randall 4X12 cabinet that was given to me by Dimebag Darrell Abbott of the band Pantera, which has 30w Greenback Celestions. I use a Boss ME-50 Multieffects processor and a Boss Compressor/sustainer.
Have you a guitar for what you have a foundness but you only play in studio ?
Yes, it's my modified 1956 Les Paul Junior. I recently was reunited with it, due to the head having been severely broken. I kept it as momento and felt I would never play it again, but as technology and luthiers' techniques improved, the miracle happened. I used it on several cuts. I keep it in my studio exclusively. Tony and Larry were instrumental in helping get it repaired perfectly.┬ (Indeed, some of our readers could perhaps follow the steps of those repairs on the social network pages of Tony Autrey, Ed.)
Did you use many guitars ?
I generally play my Strat about 90% of the time┬ (as far as Strat goes, it's a Blade with a very special electronic circuit, Ed., who had it several times in the hands), but carry several guitars as back ups. I have a Gibson Les Paul and a nice Gibson ES-335 that I usually have on the road with me. Both are left handed, of course.
What can you tell about Mouse's guitars and amps on this album ?
Mouse used an Egnater Rebel 20 and a Danelectro Nifty Fifty, and for the┬ guitar tracks he used a Fender Squier(Esquire ? Ed.)┬ 51, a Takamine acoustic, and an Epiphone Mandolin.
Little private joke : what guitar did you borrow from Tony Autrey this time ?
I used Tony's ES-335 and one of his awesome Les Pauls on 'Start the Car' and 'To Be a Man'.
How can our readers get your record ?
Our last three records "Reloaded", "Fight On", and "Volume 9" can be purchased via our Point Blank Southern Rock Official Website┬ ┬ www.pointblanksouthernrock.com┬ or at┬ ┬ www.cdaby.com.
What is planned for Point Blank in 2015 ?
Point Blank is focusing on playing a lot of shows in the USA this year with our new booking agent. We have shows coming up in September with Wishbone Ash, Savoy Brown, Elvin Bishop, and other well known artists. Hopefully, we will be back touring Europe during the summer of 2015.
Do you think you will come back in Europe in 2015, where we are waiting for you resolutely ?
I certainly hope we return in 2015. Only time will tell.
Can you reveal to us some memorable anecdotes or souvenirs of your European tours, where you found again a lot of fans in France but also in Belgium, in Scandinavia and in Eastern Europe ?
I have been re-living our first tour in Scandinavia and Europe and I feel that the entire experience was total sensory overload. Our first show on the tour was Sweden Rock Festival, where we performed to tens of thousands of people, so that, of course, was the first overwhelming memory. For me, everything from that moment forward was a beautiful blur as we played through Germany, France, Belgium, England, and Switzerland. The greatest memories, without a doubt, are the wonderful friendships we have developed with all of you. We are touched deeply by those of you who have helped us fulfill the dream we have had since we began as a band in 1974.
Last point that interests me a lot, how are the things going about the DVD filmed in Monaco and in Paris in 2010 ? Will it be released ?
Yes, the Paris Bobino show will be released on DVD, but I must explain the delay in it's release.┬ Tony Autrey and I have had to perform some rather extreme 'miracle' work on the audio. There were some huge problems with the audio mix from the mixing console, that has taken every bit of any expertise I possess just to make it palatable. It has been an insurmountable battle to repair that audio and 'marry' it to the camera audio. At one point we almost scrapped the console audio mix entirely and tried to use only the camera audio, but that didn't work either. I had tried everything I knew to do, to rectify the problems. After all is said and done, we have finally repaired it to a point where we feel it is good enough to release. It has been a technical battle but I think we have it now. All of the video footage is great, thanks to Tony and you guys! We aren't sure that we will release anything from the Monaco show at The Moods, unless we are able to find a couple of songs where the audio and the video together can pass the test. None of us were very happy with it and it just didn't fit our standards as a good representation of the band. We have spent so much time trying to repair the Bobino show that we really didn't have our priorities aimed at the Monaco show.
The concert in Bobino in 2010 was filmed and photographed, with some French friendly complicities, and it would be a superb base for a DVD, because it's still in the memory of all the people present as an an enchanted moment that reestablished definitively Point Blank at the top of the Southern Rock. Did you have the same feeling on stage ?
Yes, the Bobino show in Paris was one of the most precious memories for all of us in the band and a highlight in our long career. It was also the last time we saw our friend and musical brother, Southern John Molet, before his passing(in fact, not exactly as Calibre 12, with John at its head, made its dream come true in opening for Point Blank the next summer the 16th of July 2011 in the Château de Goncourt, Ed), so it was a bitter sweet event for us. We love France dearly and it is such an honor to perform for our fans there. You guys are the best fans on the planet!
I know that there are some videos from 1980 on YouTube, will we see them in a record one day ? Will they be in the DVD to come ?
The shows from 1980 will absolutely be on DVD, hopefully very soon. Many of the same problems we experienced with the audio at Bobino were present on those 2 shows from 1980. There were many glitches and audio dropouts from the production masters, considering these tapes were 30 years old, but again Tony Autrey has performed some incredible 'miracle' work via his expertise. We have worked long and hard to restore the video footage, as well as the audio. Hopefully, it will be worth the wait when we finally release these shows.
One day you told me that you had some video tapes from a concert in Houston, opening for ZZ TOP, do you think that you'll be able to get them back ?
Unfortunately, after I got the master tape back in my possession I took the Houston show tape we played with ZZ Top to the production facility where they were able to play back the 'production master', so we could view it and we found that the tape didn't have Point Blank's performance on it at all. The label said it was Point Blank, but after reviewing it we sadly found that it wasn't Point Blank, but it was Leon Russell instead. We still don't know why it was labeled 'Point Blank'. We were extremely disappointed considering this would have been the oldest known footage of the band going back to 1975. It was such a sad revelation when I saw it was Leon and not Point Blank...very sad indeed.
We all dreamed to see one day Point Blank in the 70ÔǙs, it's still for us the best of the Southern Rock. At the moment, we can see videos filmed in black and white of other bands that played in Passaic or Winterland during the 70ÔǙs, did you play in those places ?
Unfortunately, we have no footage from the 70's nor any suitable audio recordings. Regarding the venues we played, such as Winterland, etc...yes, Point Blank played every venue that America had to offer throughout our incredible touring schedules throughout the years. Many are memorable, while many others faded from memory due to touring 11 years at a 'break-neck' pace. Many great moments of our career became fuzzy in our memories, due to the torturous nature of playing 250-300 dates a year...it was very draining and the pressure was relentless, but we would never trade those experiences for anything, because those are the elements that made us who we were and are today.
Do you think that it will be possible one day to release a Point Blank live from the 70's in CD ?
Unfortunately, we have no multi-track audio of any of those shows, so I don't believe we will get to do that. Other than the two 1980 shows from Houston and Washington, DC, I don't know of any more video footage or good audio recordings of the band. In those days before video recording was on everyone's camera or camera-phone, it was very expensive and required a large crew of technicians to document a show. The same goes for multi-track audio recordings, as well, so at that time we were more focused on simply performing a good show than documenting one of 250 we played that year.
Traditional question in the end of the interview : if you have to finish your life on a desert island, what are the 5 records that you would take with you ?
Wow, that's a very hard question to answer while narrowing it down to 5 records, but I'll try even though I would probably end up changing my mind about 100 times! I would have a country record by George Jones or Merle Haggard... a blues record by Albert King... a fusion record by Al Di Meola... a rock album by Deep Purple, and a guitar record by Eric Johnson. I'm not sure I can name the titles of which releases from these artists I would choose, as it is quite subjective to my musical mood at any given moment.
Thanks Rusty, and as John used to say, keep on rockin' !
We thank you!
Copyright ┬© 2013 Road to Jacksonville
Webmaster :┬ Patrice GROS┬ (The Sound Of Chicago) The best of Blues Rock in France┬
Tous droits reserv├©s.┬
Design par┬ Zion┬ pour┬ Kitgrafik.com